Silkie & Silkie bantams is considered the most complete book ever written on the breed. It takes you from the early history, through the dark ages (where little is known from the breed due to lack of documentation) to today. Even the dark ages are covered by rare photos of the time.
It doesn't matter where you are in the world, what type of Silkie you breed, standard original size, large or bantam as in Europe. Nor type of the Silkie, because it is all covered in the book. To understand where your Silkies come from, it is always good to know how they developped, since a bird is one third history, one third genetics and one third selection. Only the selection is determined by the country you live in. It doesn't matter whether the crest is a huge poof or the modest one as is demanded in Europe for free vision. Animal welfare laws have influence on the European Silkies, so it is not only about the birds, it is about the direction of breeding too.
This book gives a full insight of all the traits of the Silkie. Yes indeed, all genetics are discussed and illustrated with many many pictures, schemes and photos. The Silkie & Silkie bantams book is complete, as you may expect from me. It is a very popular book allover the world which is a happy circumstance because the breeders are knowledgeable and know what they do therefore. This is of benefit for the breed, and you because you build further on what is done decades before you.
See for yourself below a gallery of random pages of the Silkie book
and you can decide. SCROLL WARNING 😀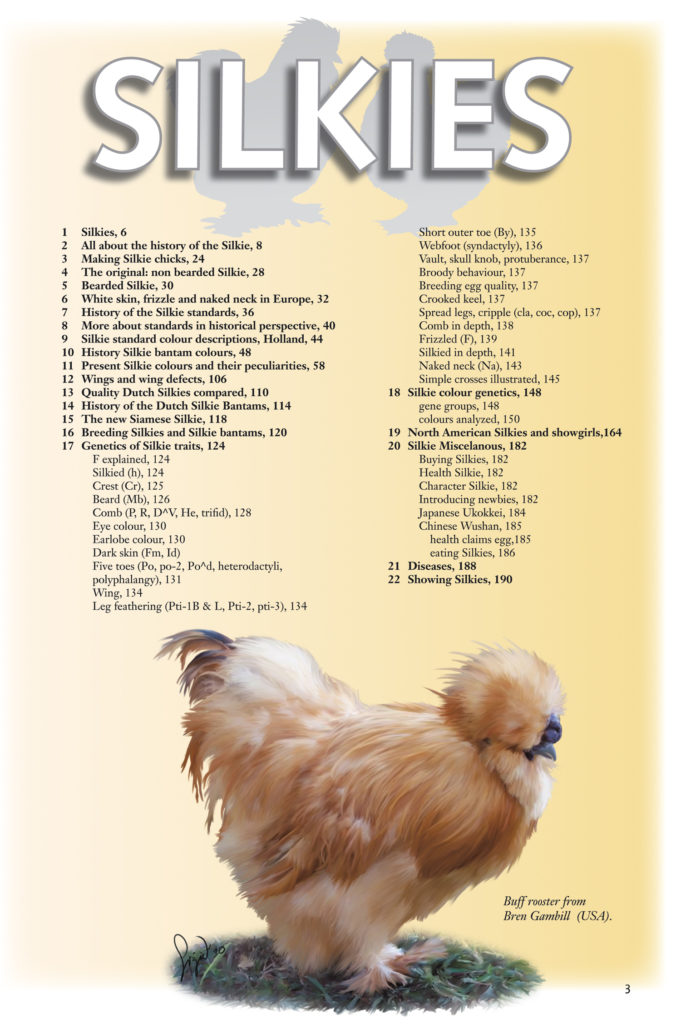 First the content page so you see what's all discussed in the book
Silkies & Silkie bantams.

Below random pages…
If you did not see enough, below are more pages… this is really an indepth book on breeding Silkies, all details are discused and illustrated.
And a few more to give you the taste of the Silkies book…
This might be enough scrolling to give you an impression of the Silkies book!
Silkies and Silkie bantams is € 65, the protective bookwrap is €2 so it arrives undamaged.
For the USA: due to Covid I send the books from here, Holland, I don't want to risk the health of my dear friend Brenda.
When she is vaccinated I send a new box of Silkie books to Texas.
So wherever you are in the world, you have to order directly from me by using the paypal buttons below.
Of course the book is signed and I add Silkie Art postcards.
BTW, I still charge old postage amounts… saves you €3,50.

Silkies & Silkie bantams bible
Including postage €84,95
World (US, Russia, Australia etc)
Silkies & Silkie bantams bible
Including postage €79,95
Europe & UK

Are you hungry for Silkie knowledge? You can satisfy it immediately, check out Silkie tech in Articles.