There are two ways I make canvas and paper prints of my chicken art.

1. my shop at pixels.com
This is a shop I have for several years and I add new designs on a regular basis for years now. Pixels first provided only in canvas and paper prints, the last few years they added 'stuffies' too, like mugs, bags, duvets, pillow cases and other things that can be chickenfied. See for yourself. They are not super cheap, quality is paramount and customerservice functions very good. Print orders are shipped throughout the world and they have everywhere production facilities contracted so travel times of the goods are limited.
Here is my pixels international art store: https://pixels.com/profiles/sigrid-vandort/shop
A few of the chicken paintings I've made, you can order them at my pixels shop or when you are in Europe as mentioned below, directly from me.

And a few more…

2. Ordering Giclées directly from me
I have a giclée printer here nearby who prints museum/gallery quality giclées on canvas. Since I order per giclée, special wishes are possible. The downside is that the giclées only can be sent to: Holland, Germany, Belgium, Austria and the UK. If you are in one of these countries, please contact me here or via facebook for your wishes. A dedication on the frontside of the giclée is possible. The giclées are top quality and the prices are not too high.
A custom giclée starts at 50 euros including postage. A frame is possible too, but the canvases are painted 'around the corner' so only the canvas itself is trendy and neat in finishing.
The photo below is a giclée print 120 x 80 cm of the Chabo mosh pit on my desk. The Japanese bantams/Chabos are larger than life, to indicate the level of detail. The originals are huge.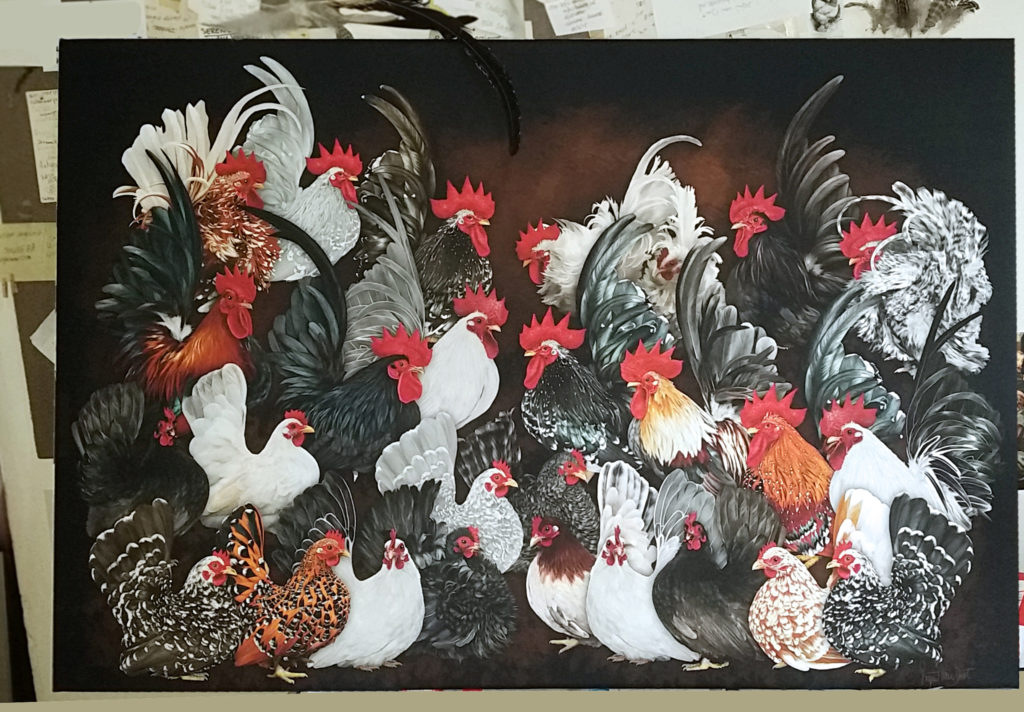 For information about custom giclées from my artwork, send me an email.
If you are elsewhere of the mentioned countries in Europe you can order from my pixels shop which ships international and is of very good quality.